Java Scanning & Imaging SDK
High performance Java scanner access and imaging SDK for Windows 32bit and 64bit

Order Asprise Scanning SDK for Java
All of our license schemes are royalty-free. Order a license below and you can distribute your Asprise OCR based applications to billions of computers without paying any additional cent.
Unlimited End-Users
You pay one-time fee now, and you can deploy Asprise Scanning and Imaging SDK based applications to billions of computers without paying any additional fee (royalty-free). Annual update and support subscription is optional and recommended.
Seats = Number of Developers and Testers
If you have 1 developer and 1 tester working on the application, you need to order 2 seats. We offer unlimited seats package at significantly reduced price. "Unlimited Seats" means all the developers and testers in your legal entity are allowed to develop with the SDK.
For global international organizations with multiple legal entities, please contact us for assistance.
Support and Update Subscription
Support and update subscription is optional. However, we do encourage clients to subscript support for the following reasons:
Support is the best way to protect your investment. Your inquiries will be put into our priority queue and we provide expedited fixes for urgent issues.
You'll receive regular product update (bug fixes, enhancements, etc).
"Can I subscribe it later?" The answer is yes. However, if you want to receive software updates, additionally you need to pay for the blank period since the day you ordered the license on pro-rata basis.
Asprise Source Selector
Asprise Source Selector can be used to select a scanner instead of the system default. Available for PROFESSIONAL & ENTERPRISE licenses only.

Asprise Scan Dialog & Image Editor
Scans can be made through the user-friendly Asprise Scan Dialog. The Scan Dialog allows the user to scan multiple pages, re-order, delete and edit them. Not all features are available for all licenses.
| License | Scan Dialog | Remove Pages | Re-order Pages | Edit | Doc separation | i18n/I10n |
| --- | --- | --- | --- | --- | --- | --- |
| Enterprise | | | | | | |
| Professional | | | | | | |
| Standard | | | | | | |
| Lite | | | | | | |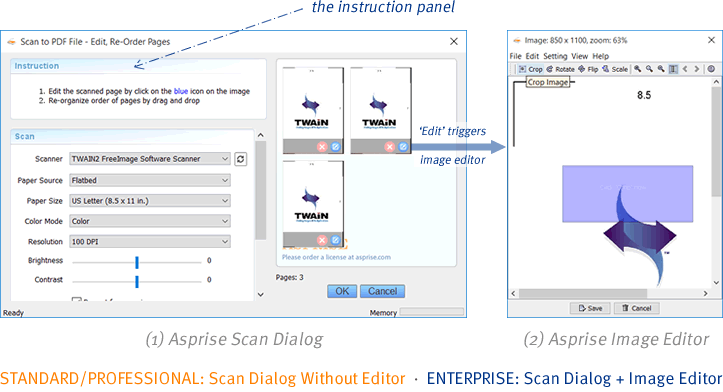 A copy of Single Developer License is required for each developer and/or tester directly or indirectly involved in the projects using Asprise libraries.
Minimum Quantity For Single Developer Licenses
BACKGROUND
At Asprise, our priority is to deliver high quality developer-friendly products instead of vigorously implementing intrusive license protections. However, sometimes our good will has been taken advantage of. The typical size of an agile team is around 7, while some companies get used to order one single developer license and share among all the developers/testers.
MINIMUM QUANTITY: 2
In order to be fair with all our clients, we required that the minimum order quantity of Single Developer Licenses is 2.
EXEMPT: START-UP COMPANIES* & CHARITY ORGANIZATIONS
*A start-up company must meet all of the following criteria in order to be considered as exempt:
Was incorporated within two years; and
Has employed or contracted no more than four persons at any time in the twelve months prior to the order date.
Please send relevant proof documents to us. We reserve the right, in our sole discretion, to change these requirements from time to time.
Featured Clients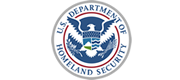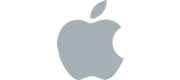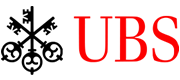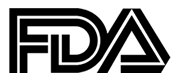 Sectors: Finance • Information Technoloy • Government • Healthcare • Industries • Education • (show all)
<! -- left end -->